Wormwood Motors is a car dealership that deals in used and secondhand cars. It's owned by Harry Wormwood.
Unbeknownst to his customers, the cars are actually stolen from all over the country, and arrive in wrecked states. Harry buys them for little, and sells them for high prices. To disguise the poor condition of the cars, he puts sawdust in the engines, which makes them "run smoothly" until the buyers are too far away to take them back. Harry also repaints the cars, and rewinds the odometers to a fraction of the miles they were previously driven. Afterward, Harry tricks the customers, telling them that the cars are practically new and barely used.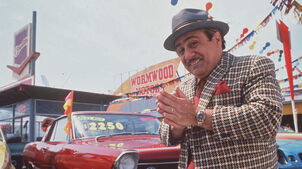 Harry's son, Michael, has inherited his father's enthusiasm for criminal activity, and his plans are to hand the family business over to Michael when he grows up. However, his daughter, Matilda, highly disapproves of her father's dishonesty.
At the end, his shady dealings attract the attention of the FBI, and the family flees to Guam, leaving Matilda behind as she opts for Miss Honey to adopt her.
Community content is available under
CC-BY-SA
unless otherwise noted.