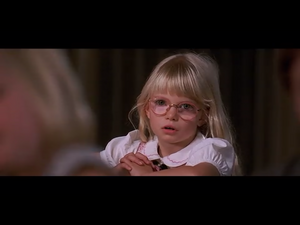 Amanda Thripp is a secondary character in "Matilda". Amanda has pretty blonde hair.
About Amanda
Amanda Thripp is a 10 year old girl at Crunchem Hall Elementary School. Miss Trunchbull throws Amanda over the fence like an olympic hammer by her hair as punishment for allowing Mrs. Thripp to put Amanda's hair in piggy tails.
On the day that Matilda's powers attack Trunchball, Trunchaball throws a boy out the door like a javelin, and Matilda's powers to fly the boy back inside and shove her to a globe.. Amanda is show to be astonished by this event.